NBA 2K21 is getting updated for both next-gen and current-gen platforms today, in the form of next-gen Patch 6 (version 1.08) and current-gen Patch 8 (version 1.10). And, since both downloads are fairly similar to one another, we've decided to squeeze both versions of the patch notes into a single post.
MyTeam exploits are getting patched across the board, alongside a few likeness updates that are included for good measure. The patch notes arrive courtesy of the latest Courtside Report blog posts.
NBA 2K21 Next-Gen update 6 (version 1.008.000) patch notes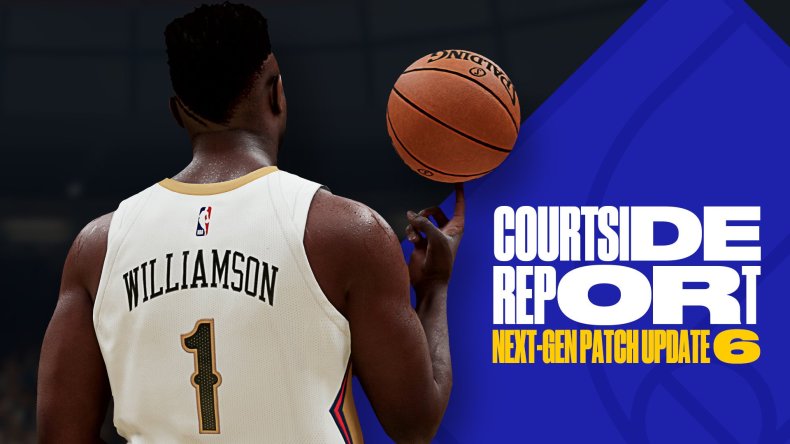 General
The following players have received a number of likeness updates:

Darius Bazley
Tyler Bey
Hamidou Diallo
Jahmi'us Ramsey
Domantas Sabonis
Luka Samanic
Landry Shamet
Rayjon Tucker

Resolved a rare issue in MyNBA when starting a save from the offseason
MyTEAM
Resolved reported menu issues with the Mystery tier in Domination
Duplicated Attribute Boosts for Triangle and Post Coaches have been removed
Addressed a Win/Loss exploit in Unlimited and other multiplayer modes
Made visual improvements to Dark Matter in certain menus
Resolved an issue with the Geologist achievement/trophy
Additional preparations added for future seasons of MyTEAM
NBA 2K21 current-gen update 8 (version 1.10) Patch Notes
Includes the above-listed MyTeam and likeness fixes plus:
GENERAL:
New seasonal decorations in 2K Beach.
MyCAREER:
Keep an eye out for new events coming to 2K Beach in the coming weeks.
In other words, despite the sheer girth of these NBA 2K21 updates, the current- and next-gen versions of the game aren't changing very much today. It certainly helps to have player likenesses updated for accurate simulation purposes, but there's not much here that most community members would consider gameplay-defining. The MyTeam adjustments are alright as well, but, when there are so many other obvious flaws that could stand to be patched in both versions of the game, it is a little insulting to see that Visual Concepts is able to quickly rush out fixes for a mode so strongly focused on paid microtransactions instead.
After all, in the hours since the next-gen update's release especially, it seems as though very little has been done to address the main shortcomings that players have been asking about. If you're tired of staring at Zion's face every single time you boot up the game or go back to the menu, you'll still be doing that even after this patch is installed. And, given that there are little to no gameplay-focused adjustments listed here, we imagine some of the longstanding cheese methods are still present. It's nice to have new 2K21 events as frequently as Visual Concepts is able to release them, but it's hard not to feel like balance and stability has been somewhat ignored in favor of cosmetics and paid items. Still, some NBA 2K21 updates are better than none at all.
NBA 2K21 is available on PS5, PS4, Xbox Series X|S, Xbox One, Switch, PC and Stadia.
What are your thoughts on the current and next-gen updates for NBA 2K21? Were you expecting more from these patch notes? Tell us in the comments section!