NBA 2K21 for PS5 and Xbox Series X|S received a 3GB update Wednesday morning, and now we finally know what it does. Taking cue from last week's 1.09 current-gen patch, the 1.07 next-gen variant also adds some new courts and updates a few likenesses previously changed on PS4 and Xbox One. Read the full patch notes below, courtesy of the latest Courtside Report blog post.
NBA 2K21 Next-Gen update 5 (version 1.007.000) patch notes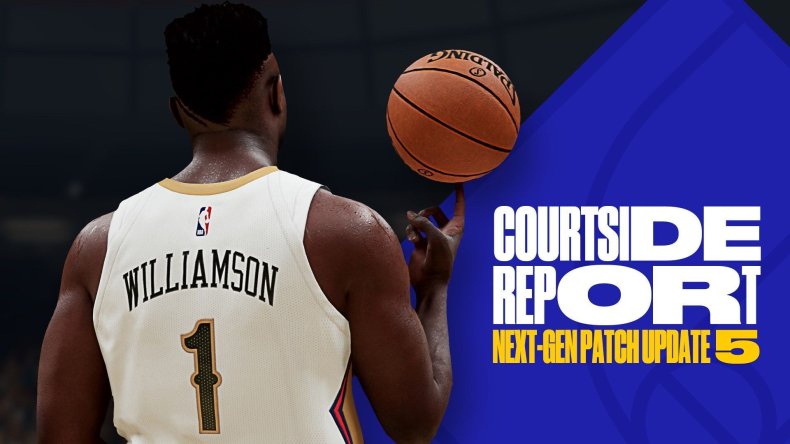 The City has received an all-new Spring update to help ring in the warmer months! This will be going live starting Thursday.
The following players have received likeness, tattoo, and/or signature facial animation updates:

Mikal Bridges
Jaylen Brown
Thomas Bryant
Vernon Carey Jr.
John Collins
James Ennis
Malachi Flynn
Wenyen Gabriel
Daniel Green
Tyrese Haliburton
Kevin Huerter
Cameron Johnson
Tre Jones
Saben Lee
Theo Maledon
Terance Mann
Juwan Morgan
Joakim Noah
Jordan Nwora
Daniel Oturu
Jerome Robinson
Isaiah Stewart
Tyrell Terry
Xavier Tillman
Anthony Tolliver
Rayjon Tucker
T.J. Warren
Paul Watson
D.J. Wilson
Robert Woodard II

Resolved an issue that caused the names of some playbooks to disappear.
Addressed a rare issue with Dark Matter player cards not displaying the player reveal during pack openings (MyTEAM).
Addressed an audio issue with Dark Matter card animations (MyTEAM).
Prep work for Season 6 of MyTEAM. It's…peculiar.
Various stability and performance issues have been addressed to further improve the overall experience.
To those invested heavily in the NBA 2K21 community, it's no secret that Visual Concepts' next-gen version of the game has endured its fair share of growing pains. Beyond the obvious gameplay-focused cheese methods and the like, perhaps the most pressing issue present on new machines is the large assortment of crashes, error messages, save data corruption and miscellaneous bugs. While not listed in explicit detail here, the hope is that many of these major flaws have been addressed. After all, we're pretty tired of looking at that never-ending Zion loading screen. NBA 2K21 has its issues, but stability might be its single biggest concern right now.
Today's NBA 2K21 next-gen update arrives one week after its current-gen counterpart that updated likenesses for Thomas Satoransky, Jaylen Brown, Reggie Jackson and more. Some of these changes that weren't already in the next-gen version likely made their way over in this new next-gen build, but several of those likenesses were vastly improved on PS5 and Xbox Series X|S to begin with. The current-gen patch also added 2K Foundation courts and some fairly inconsequential MyTeam adjustments, too.
Overall, we expected this NBA 2K21 next-gen update to be a bit more substantial, but, as long as the bugs and crashes are mostly dealt with, that's a huge improvement over what came before.
NBA 2K21 next-gen is available now on PS5 and Xbox Series X|S.
What are your thoughts on this latest NBA 2K21 next-gen update? Were you expecting more from Patch 5? Tell us in the comments section!