Is NBA 2K21 the worst NBA Game ever: NBA 2k21 has been receiving a lot of criticism. Its fan base feel like the newest version of NBA 2K is nothing but a patch up to the old one. Reddit has been simmering with a lot of hysterical comments about NBA 2k21 as well.
NBA 2k21 is getting a lot of harsh negative reactions on Reddit. Players have been complaining of multiple issues and the presence of server issues is very obvious is multiplayer mode. There has also been a lot of claim that the game is just too much like last year's game. A lot of gaming critics have claimed that it feels like a patch to NBA 2K20.
But the real fun started when a reddit stream started stated "NBA 2K21 on Steam is Criminal." NBA 2K21 has been tagged with Crime category on Steam and many agree that it deserves it. The explanation is that 2K21 is nothing but a patch to the NBA 2K20 and many agree that $60 is a bit too over-priced.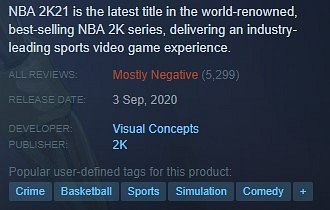 Apart from this, there have also been complaints about a lot hackers in the PC version of the game. However, the majority agree that a content patch update and glorified graphics for $60 is criminal.
Also the change of the shooting meter has also been a cause of concern. We can understand that 2K wants to make it harder to score points, but there was no need for that. In fact, many of the players, even professionals feel shooting is hard as it is.
Am I the only one struggling with this shot meter ? 🤦🏾‍♂️ and I ain't made a free throw yet

— Damian Lillard (@Dame_Lillard) September 4, 2020
But, the overall conclusion is that NBA 2K21 is just too similar to NBA 2K20 , despite the changes and the upgrades which are coming to MyTeam and Career mode. It really doesn't make you say, "Oh, I really wanna get it." The thing is if you didn't like last year's 2K, you definitely won't be wanting to go for this.
NBA 2k21 Twitter Reactions
Nba 2k21 is the worst 2k I've played since Nba 2k18

— RDCWORLD1 BURNER (@rdcburner) October 6, 2020
Court Conqueror, Worst event on 2k!!! pic.twitter.com/eHuluBa4qT

— Offical ®️ (@Offical01152414) September 30, 2020
Graphics look amazing for the PS5. Too bad @NBA2K 21 is the worst 2k they've created so far…

I still want my $100 back!!!

— DoZay (@DoZay1) October 7, 2020