NBA 2K21 is here, with yet another iteration of the popular Face Scan feature. Getting your customized baller to actually look like you can be pretty tough, but we're here to offer some tips and a full tutorial to get the best results under most circumstances. If you truly want that expert scan, keep reading.
How to use the NBA 2K21 Face Scan app
The first thing you must do to upload any Face Scan into NBA 2K21 or the NBA 2K21 Demo is download the MyNBA2K21 app for iOS and Android. It can be found by searching for that name in the App Store or Google Play, or by using these links. [Android] [iOS] With the App installed, let's get to the actual steps.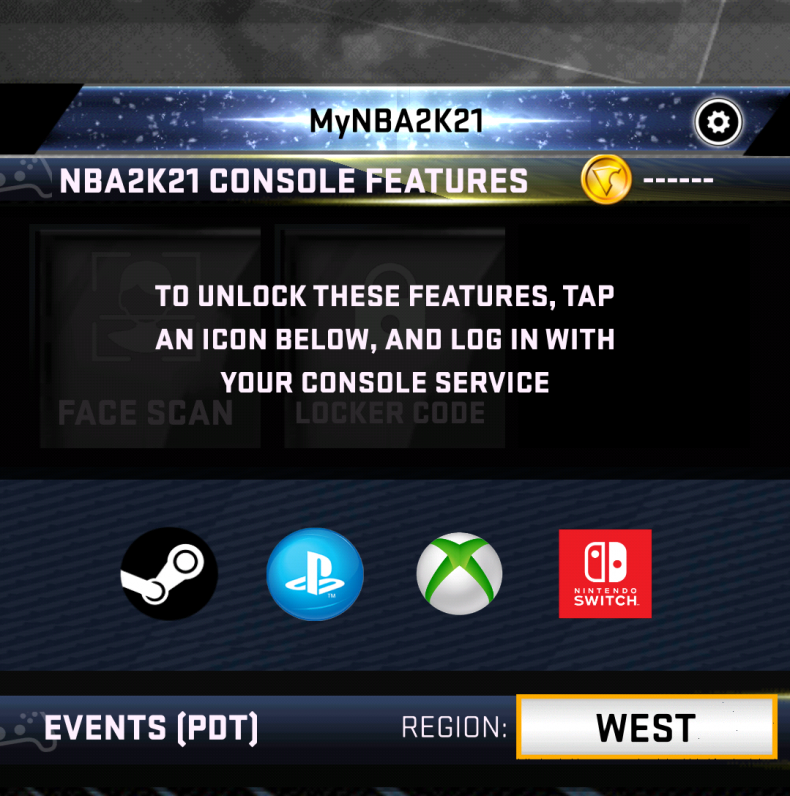 Tap the app icon, agree to any license agreements and sign in via the platform on which you plan to play NBA 2K21. If you happen to get any login errors along the way like we did, just quit the app and relaunch. Odds are you'll be logged in correctly the next time the app opens up.
Select the option to "Face Scan" from the list and agree to the terms.
Some tips to know to ensure the best results
Obviously, you can tap through and start the Face Scan process from the point listed above if you want, but here are some details to consider before proceeding. Especially since the NBA 2K21 Demo officially limits you to a single Face Scan attempt, we strongly suggest making sure these details are kept in check.
Make sure you have good, even lighting. Don't attempt a Face Scan from a dark room or use any kind of flashlight or spotlight that only illuminates one part of your face.
Take off any hats or glasses that may cover your face. If your hairline covers your forehead, you may want to move that up, too.
Some have suggested that taking Face Scans outside on a cloudy day offers the very best results.
If your device is older, its cameras may not be very good. In this case, you might want to take advantage of the rear camera instead of the front one. If that's what you decide to do, make sure you have a friend close by to assist you.
Performing the actual scan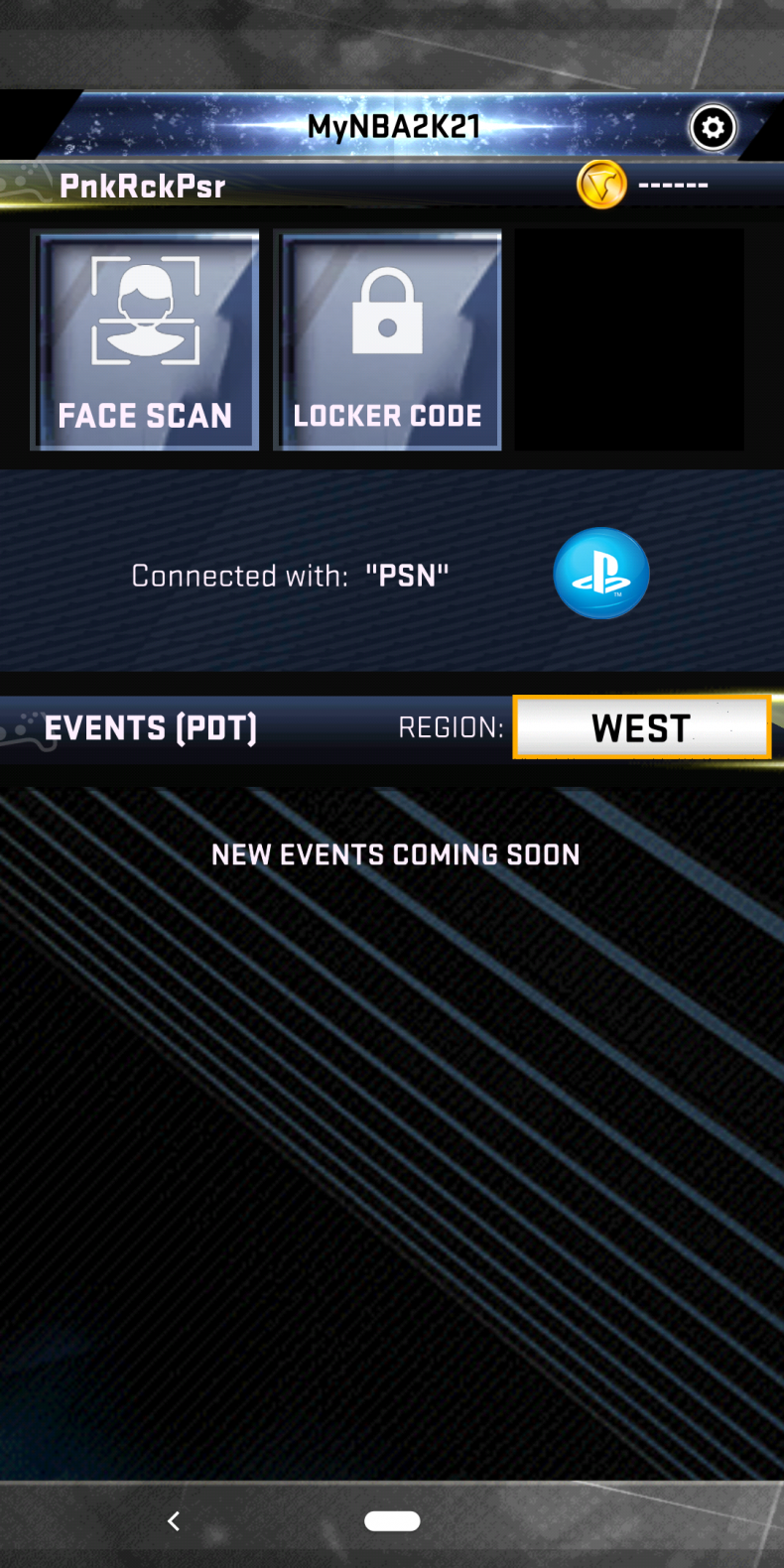 Once you've got what you perceive to be the very best Face Scan setup you can possibly have given the above pointers, it's time to start the actual Face Scan process. Most of these directions are offered within the app itself, but we'll provide some added context where necessary.
Select Front Camera as long as you have a fairly new device. Older devices might want to take advantage of the Rear Camera's high-quality sensors instead.
Next, center your face at the very top of the circular area and blink a few times for the app to get orientated with the position. You'll see lights flash a few times when it's ready.
Very slowly rotate your head in 30-degree increments from left to right as instructed on screen. While it may be tempting to look at your face during the process, you should actually keep your gaze fully transfixed in the area where you know your phone's camera dots to be. If you start getting errors, move slower or find a new place to shoot.
Once your rotations are done, the app will then search for the 13 snapshots and allow you to look at them. This step is more important than it appears. Scroll through the list and make sure none of the images have perceptible motion blur in them and that they're evenly lit. If you see even one that is blurred or dark, we suggest starting over to ensure the scan is good. If the results look solid, press the button to "upload."
Now it's time to go to the NBA 2K21 Demo or full version of NBA 2K21 when it's available. In the MyPlayer Builder, press the designated button to "check for Head Scan data." If you did your scan correctly, a bar will load your latest images. If you get any errors during this step, try relaunching the NBA 2K21 app on your console and reloading. If that still doesn't work, you may need to try a new Face Scan altogether. If you did it right, the scan will load as part of the rest of the MyPlayer default head options.
Some other cool tips worth knowing
Before we go, there are a few cool Face Scan-related tips we thought we'd share that might be helpful.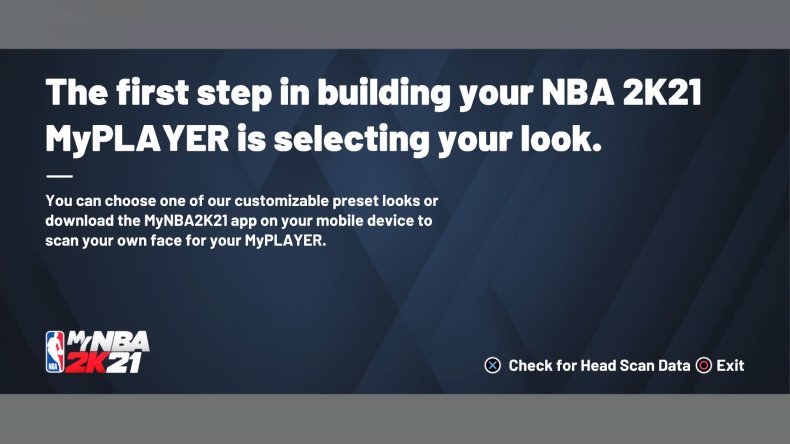 It's possible to get multiple Face Scan attempts in the NBA 2K21 Demo on PS4. This basic idea may work on other platforms as well, we just haven't tested it to be sure.
Delete your NBA 2K21 save files by going to Settings > Application & Save Data Management > Save Data in System Storage > Delete. Select all the NBA 2K21 files and delete them.
Now back out to Network and uncheck the box that says "connect to Internet."
Launch the NBA 2K21 Demo. When you get an error screen, go back and recheck the "connect to Internet" box. Wait a few seconds till you see that the PS4 is reconnected, then return to the app. When it loads, you'll have the option to import a Face Scan again.
We also came across this cool YouTube channel called 2KFACEPLUG that offers several videos for Face Scans based on third-party properties like Naruto, Chucky, Wolverine and more. To take advantage of these, select the option to use the Rear Camera and essentially record the video with your phone to get the images. The results are a bit mixed to say the least, but it might be cool to see these famous faces in MyCareer and 2KBeach.
That's all we know about Face Scans in NBA 2K21.
NBA 2K21 is available September 4 on PS4, Xbox One, Switch, PC and Stadia.
Do you have any NBA 2K21 Face Scan tips we should know? How did you get the best results? Tell us in the comments section!