With the 2021 NBA Playoffs beginning soon, PGA Tour 2K21 officially added some brand new gear in their game. For a while, outfit options existed which featured different brands such as Adidas, Titleist, Penguin, Puma, and Under Armour. Now, gamers can customize their golfers' looks with gear featuring the logos of all 30 NBA teams. It's a crossover of the two professional sports leagues and seems to open the door for more in the future. 
PGA Tour 2K21 MyPlayer gets NBA crossover
In the PGA Tour 2K21 game, gamers can outfit their customized golf stars with gear of different styles from several popular brands. Now, they've gone a similar route as the NBA 2K titles, which feature the option to pick up clothing items featuring NBA teams. In NBA 2K21, there are often shoes and other items that gamers can purchase for their MyPlayer, based on the team they were drafted for. 
PGA Tour 2K21 MyPlayer now includes the option to purchase gear depicting any of the 30 NBA teams. That opens up many possibilities for different outfits on the green. Most importantly, it allows gamers rooting for specific NBA teams in the upcoming NBA Playoffs to show their support through PGA Tour 2K21. This year's playoffs will feature a total of 10 teams, thanks to a new Play-In Tournament which tips off on Tuesday.
Since 2K has NBA 2K21 and PGA Tour 2K21, we can see crossovers potentially coming. Could they add in NBA stars of past and present competing in the game or becoming unlockable? There's also the fact that 2K has the WWE 2K and 2K Battlegrounds games. The latter of these saw NBA 2K21 cover star Damian Lillard cross over into the game. He showed up as a fictional superstar named "Laheem."
Adding to the potential of a WWE and PGA crossover, WWE superstar The Miz was part of the promotional efforts. Miz appeared in a video or two with cover star Justin Thomas ahead of PGA Tour 2K21's release. Could The Miz, other WWE stars, and celebs make their way into the game for a celebrity tournament?
With 2K recently inking a multi-year deal with Tiger Woods, they're likely looking at ways to stay ahead of EA Sports' upcoming PGA Tour game. So big things could be happening in the future with the title, and possibly other interesting sports crossovers will occur.
How to get and use the NBA clothing items
The new NBA items should appear as options when outfitting your MyPlayer in PGA Tour 2K21. You can find this on the Profile Menu at the Golfer tab by choosing the "MyPLAYER & Equipment" option. Then, choose "Clothing."
Scroll down to the bottom of the Casual tops items, and the NBA is among options now. A black t-shirt featuring any of the 30 NBA team logos costs 2,000 Virtual Currency. To get VC, you can earn it by playing the game to rack up some bankroll. Or, you can spend real money at the PlayStation, Nintendo, or Microsoft Store to add some to your account.
Baseball caps offer a bit more when it comes to color choices as they're all different, based on team colors. For example, you can give your golfer the purple and gold of the Lakers or Boston Celtics' green. These cost 1,000 Virtual Currency in the game.
Here's a look at the Charlotte Hornets clothing items including their teal and purple hat.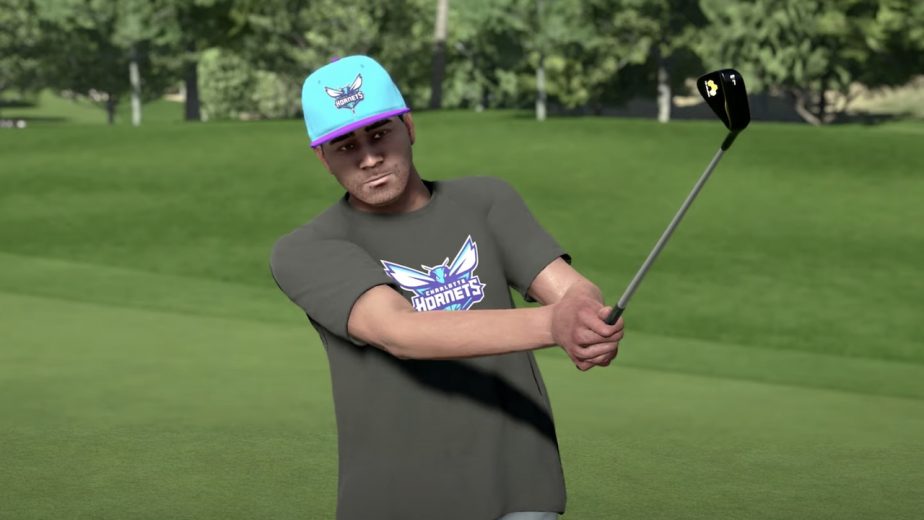 Upon going to buy any clothing item, you can choose to "Purchase" to add it to your available gear or "Purchase & Equip" to put it on your PGA Tour 2K21 MyPlayer before your next outing.
PGA Tour 2K21 is currently available for the PlayStation 4, Xbox One, Nintendo Switch, and Windows PCs. The game's Standard Edition is priced at $39.99 for Physical or Digital, while the Digital Deluxe Edition is $69.99.
Visit our video game news page to get more updates about PGA Tour 2K, EA Sports PGA Tour, and other sports games.