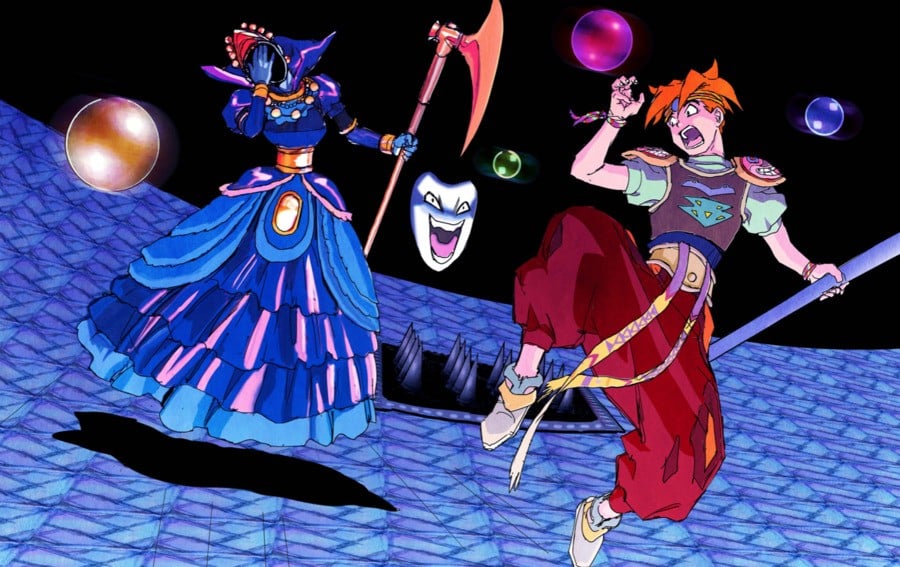 Terranigma is a SNES title that holds a special place in the heart of many an RPG fan, which is remarkable when you consider that it was only released in Japan and Europe, and bypassed North America entirely. Part of Quintet's loose RPG trilogy (which also includes Soul Blazer and Illusion of Gaia), Terranigma has become a cult classic in modern times – so much so that fans are currently petitioning Square Enix for some form of re-release on modern systems.
Manga artist Kamui Fujiwara – author of Dragon Quest: Emblem of Roto the genius behind Terranigma's character design – has recently been participating in the "Hero Resurrection Festival" (or "Heroes Easter"), an online event held every year by Terranigma fans on Twitter. He has been tweeting a new artwork every day to promote the Terranigma-themed art exhibition he will hold from 3rd to 13th of September at ACG_Labo. For the occasion, Miyoko Takaoka (maiden name Kobayashi, Terranigma's composer) is also creating a brand-new song.
Prior to these events taking place, Italian game developer and Terranigma super-fan @b_layDEV was fortunate enough to speak with Fujiwara-san about the game, and you can find the exclusive interview below.
---
Do you remember how did you get firstly approached to work on Terranigma?
Fujiwara: Terranigma was distributed by ENIX (now Square Enix). At the time, ENIX was publishing the manga (Dragon Quest) "Emblem of Roto", so it was easy for Quintet to contact me for the job. It wasn't a job I wanted, but I enjoyed working on it. Above all, I love action RPGs.
Which guidelines did you follow when creating the art for the game?
Following after Soul Blazer and Illusion of Gaia, we had Terranigma as "a third game". I was told they wanted a change from the previous two games' visuals, so there were no particular restrictions on the character design. In fact, I had a lot of freedom [in] how I designed the characters. I was free to design anything I wanted.
Which Terranigma character do you like the most? How did you come up with its design?
I didn't have any particular preference about the characters. I designed them before I played the game. It's only when you play the game that you get emotionally involved with the characters. After playing the game, I liked Meilin a lot. I think the complex way she expresses her emotions is really good. The main character was the only one I had to redraw many times, but the rest of the characters were done rather smoothly.
How much were you involved with the game mechanics and story development?
I wasn't able to work on the game for very long because I was working on a manga series. I was involved from the early stages. Overall, I provided the visuals that served as the framework of the project. After the release of the game, my [design note] material for Terranigma was published at the end of the illustration book Dragon Quest Retsuden: Roto no Monshō – Kamui Fujiwara Illustration Collection II.
Did you get to try and play the game a lot before its official release? If yes, do you know about any major content that got cut out during the development from the initial planning to the final game?
I played the game once before it was released. It was almost finished, but there was still a debug mode, so I remember being able to warp around and explore different locations (through the closet at the beginning of the game).
There's data in the game that hints towards a third battle phase for the final boss (Dark Gaia). Did you know about it?
Not sure, I don't know.
[Later, Mr. Fujiwara was able to recover and publish the original (lost) Design Note of the game. In this document, we can see some never-seen-before sketches showing some discarded ideas for the final boss fight. You can also notice how one Dark Gaia discarded form got recycled to create another boss in the final release (Stormkeeper).
We translated the notes from the sketches: the first one says that in that battle phase, Dark Gaia was supposed to be an overlay of three identical sprites of the boss, with three different % of transparency. Each pair of arms moves/attacks independently.
The second one says that, if you tried to go behind the boss, he would have smashed the columns.]