NBA 2K21 soundtrack details have finally arrived, courtesy of a newly released Spotify playlist featuring top tracks from Stormzy, The Weeknd, Roddy Ricch, the Strokes, Pop Smoke and more. While the current-gen version of the game will launch with 52 total songs and more to hear through updates in the coming months, here's a sneak peek at the tunes you can expect to grace your speakers at launch.
NBA 2K21 Pre-Release Soundtrack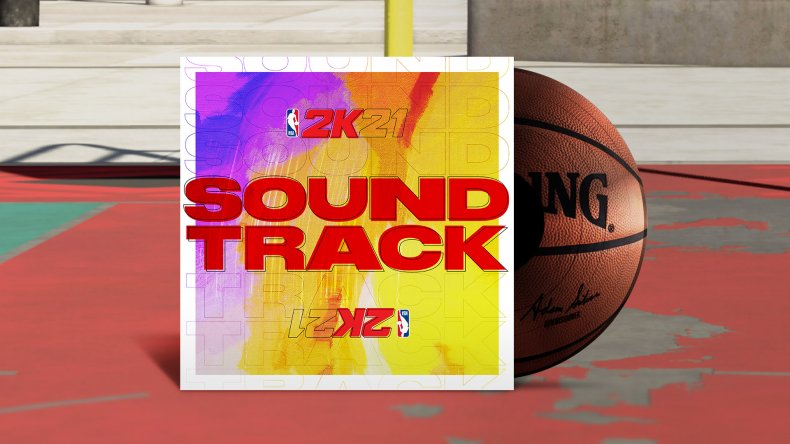 "Blinding Lights" – The Weeknd
"WHATS POPPIN" – Jack Harlow
"God's Eyes" – Roddy Ricch
"Let Me Know" (I Wonder Why Freestyle)" – Juice WRLD
"No Threat" – Anonymuz, Denzel Curry
"Sum 2 Prove" – Lil Baby
"Bronze" – Stormzy
"GATTI" – JACKBOYS, Pop Smoke & Travis Scott
"Go Stupid" – Polo G, Stunna 4 Vegas, NLE Choppa and Mike WiLL Made-It
"Value" – A$AP Ferg
"Venom" – Little Simz
"Bad Decisions" – The Strokes
"Dior" – Pop Smoke
"Ruthless (feat. Jay Critch) – Lil Tjay and Jay Critch
"Fight for Your Right" – J Hus
"CROWN" – CHIKA
"Season Ticket Holder (feat. D. Wade, Raphael Saadiq and UD)" – Rick Ross, D. Wade, Raphael Saadiq and UD
"Red Eye" – Young Boy Never Broke Again
"My Block" – Che Lingo
"Broke in a Minute" – Tory Lanez
"Evisu" – Lauren Declasse
"BREATHIN' (feat. P Money)" – Ocean Wisdom and P. Money
"Dream the Dare" – Pure Bathing Culture
"SWISH" – Chris Patrick
"Cameras" – Jay Critch, Nick Mira and jetsonmade
"Routine (feat. Rick Ross and Meek Mill)" – Wale, Meek Mill and Rick Ross
"Balling" – Cardi B, Simba.Got.It
"SAME TEAM" – Jerreau
"Don't I?" – Tarik
"I Want All the Bags" – Red Cafe
"Cold" – Boy in Space and unheard
"Racks" – Abderly
"Any Other Way" – Stix
"$ and Problems" – Samwyse
"Balmain Belt" – Chaz Marcus
"THEYKNO FREESTYLE" – Rae Khalil
"How It Is" – Malz Monday
"Alarm" – ELO
"3 Pointer" – Sage English
"Game Time" – Black$tar and Tyson Meshaq
"Work" – Irie Da Brat
"Photograph" – ill Nicky, Jared Anthony BangerOfheDay and Cheeba Hawk
"BALL" – Zebbo
"Wave" – Avidince
"A Dub" – Ro$$ Mac
"Mayday" – Jared Anthony
"Hoop Dreams" – Fight Gang DraE and Glenn
"The Next" – Kap Peezy
As this is only 48 tracks from the full list, there are many more to hear in the final game when it releases September 4. Just like its predecessor, however, the song roster will also continue to expand over the year, with new artists and chart toppers you've been dying to hear.
Portland Trail Blazers point guard Damian Lillard will also appear on the proper soundtrack, in addition to his spot on NBA 2K21's cover. "To be on the cover alone is a big deal to me, but to be on the cover and also have my music be a part of the game is a huge accomplishment as well," Lillard said in a press release. "Personally, I've been introduced to new artists, songs and genres that I might hear on the radio, but I heard it first on NBA 2K."
As the NBA 2K21 release date draws near, the soundtrack is generally one of the first major reveals for any annual NBA 2K installment. Over the next month or so, fans are likely to get additional gameplay deep dives and maybe even a first look at a presumed free demo for the game. For right now, though, these smooth tunes will have to be enough to hold you over until something bigger comes along.
NBA 2K21 is available September 4 on PS4, Xbox One, Switch, PC and Stadia. PS5 and Xbox Series X versions are also due to arrive later in the fall.
What do you think of the NBA 2K21 soundtrack based on this tracklist? Are there any big songs missing that you expect to be added? Tell us in the comments section!