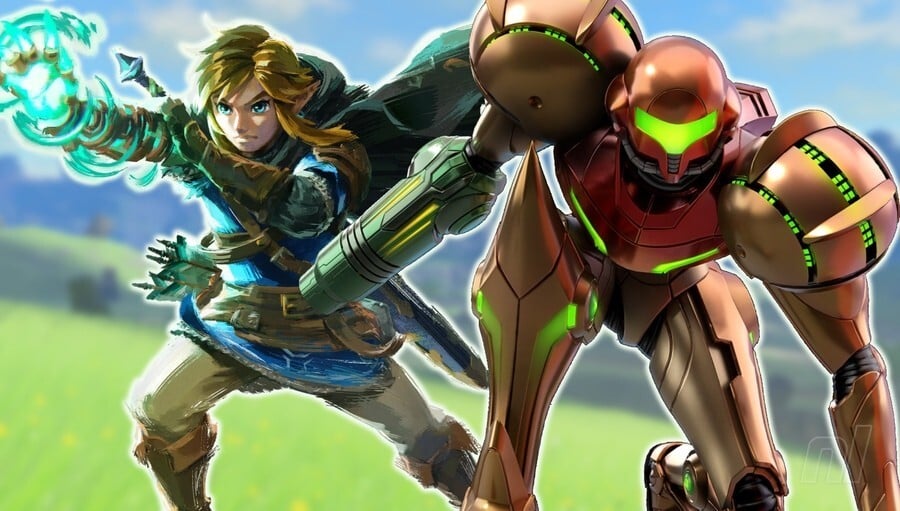 Another week has arisen and that means it's time to take a look at the UK Charts.
The Legend of Zelda: Tears of the Kingdom has once again topped the pile with no signs of slowing down anytime soon. The biggest surprise this week, however, is that Metroid Prime Remastered has received a much-welcome boost, re-entering the charts at number thirteen. The game was subject to heavy discounts on sites like Amazon UK, which will have no doubt contributed to its renewed success considerably.
Elsewhere, AEW: Fight Forever has fallen down from third to eighteenth this week, though the Switch version is doing reasonably well against the other platforms, making up 23% of the split, with PS5 in the lead with 42%.
The only new entry this week belongs to The Legend of Heroes: Trails into Reverie, which enters the charts at number twenty-two. The Switch version here couldn't quite keep up with the PlayStation, though still managed 25% of the total platform split.
Finally, while Master Detective Archives: Rain Code topped the Japanese Charts last week, it's an entirely different story in the UK this week, as Spike Chunsoft's new IP has fallen out of the charts entirely. It's not a huge surprise given its rather niche appeal in the region, but we'd hoped to see it cling on a bit longer.
Here's this week's UK top forty in full:
Last Week
This Week
Game

1

1
The Legend of Zelda: Tears of the Kingdom

6

2
FIFA 23

5

3

Mario Kart 8 Deluxe

2

4
Final Fantasy XVI

8

5

Hogwarts Legacy

4

6

God of War Ragnarok

12

7

Star Wars Jedi: Survivor

9

8
Call of Duty: Modern Warfare II

11

9
Diablo IV

15

10

Minecraft

14

11
Grant Theft Auto V

13

12
F1 23

–

13
Metroid Prime Remastered

18

14

Animal Crossing: New Horizons

19

15
Nintendo Switch Sports

20

16
Pokémon Violet

–

17
WWE 2K23

3

18
AEW: Fight Forever

10

19
Sonic Origins Plus

22

20
New Super Mario Bros. U Deluxe

24

21
Mario Party Superstars

NEW

22

The Legend of Heroes: Trails into Reverie

21

23
Super Mario Odyssey

25

24
Super Mario 3D World + Bowser's Fury

27

25
Pokémon Scarlet

29

26
The Legend of Zelda: Breath of the Wild

31

27

Crash Bandicoot N. Sane Trilogy

26

28
Street Fighter 6

33

29
Just Dance 2023 Edition

34

30
Minecraft Legends

17

31
Saints Row

30

32
Resident Evil 4

28

33
Mario + Rabbids Kingdom Battle

35

34
Red Dead Redemption 2

38

35
Splatoon 3

–

36
F1 22

37

37
Lego Harry Potter Collection

39

38
Super Smash Bros. Ultimate

7

39
Story of Seasons: A Wonderful Life

40

40
Pokémon Legends: Arceus
[Compiled by GfK]
Did you pick up any new titles this week? Let us know your thoughts on the charts in the comments below.