These days, you can expect Halloween events in spooky games, wholesome indie games, as well as live service games that will jump on any and every opportunity to sell $20 skins. But it's rare for the type of game that Lords of the Fallen is – Souls-like action RPG – to host its own.
Lords of the Fallen is not, of course, devoid of any horror. Its Umbral world of the dead is full of body horror and all manner of horrific creatures, but this Halloween event brings some of that action to the world of the living.

To see this content please enable targeting cookies.


In celebration of the release of the big 1.1.249 patch today (out now on PC, later on consoles), the developer is kicking off a limited-time in-game event. It's live now until November 2, and it introduces a new quest, and some themed decorations in the world of Mournstead.
If you manage to finish the quest, your reward is the jack-o'-lantern-inspired Pumpskin Mask helmet, which actually looks like something that can exist in the game's world.
The so called Pumpkin Patch brings a number of changes the developer previously discussed. The big one, of course, being the reduction to enemy density in certain areas where players struggle the most. Interestingly, this only applies to the normal game, not NG+.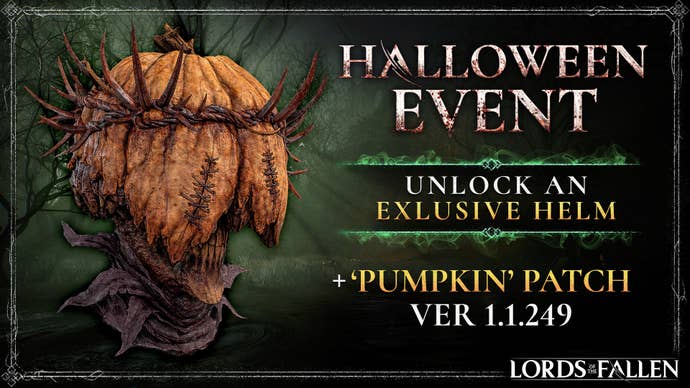 The patch also changes how New Game+ works, allowing Vestiges (bonfires) to persist, with their numbers increasing with every consequent NG+ run. NG+3 removes them entirely from the game, so you'll have to rely on shortcuts.
Cross-play support has returned, too, allowing PC and console players to fight alongside (or against) each other with no limitations. More performance optimisations have also arrived, especially on PC.
Though the version numbers vary, all of the changes mentioned in these patch notes are included in today's major patch. Hit the link for more details.